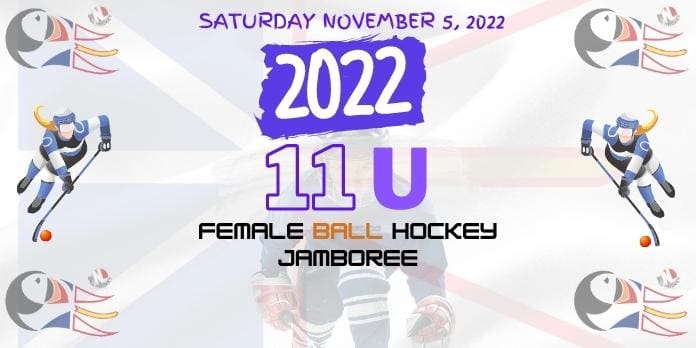 Location/Date:  St. John's – Saturday November 5, 2022 – North Point Sports, 42 O' Leary Avenue
Number of Teams:  6 (first-come, first-served)
Age: Girls born in 2011 or 2012
Number of Teams: 6 (first-come, first-served)
Game Length: 36 minutes running time = 3 minute shift x 12 shifts
Number of Games: Three (3) games per team
Team Roster: 8 players + 1 goalie
Team Entry Fee: $270 per 11U team. Fee includes a dri-fit NLBHA t-shirt per player. Entry fee must be submitted by October 24 to the NLBHA treasurer at the time of registration. Entry fee payment is to be made via EMT to treasurer@nlbha.com (no password required). Team name and uniform color must be included in the EMT message.
Insurance Fee: $10 insurance fee per player for any player that is not part of a registered NLBHA program. 
NOTE: This insurance fee is an annual NLBHA insurance fee that allows players to participate in NLBHA events and be covered by insurance from April 1, 2022 – March 31, 2023.
Team Registration Form: Please use the team registration form found at https://ballhockeynl.ca/registration/ 
Team Roster Form: Will be sent to teams that register by October 24. Team Rosters must be provided to the NLBHA registrar at least three days prior to the start of a 11U jamboree.
Officials: NLBHA will facilitate and officiate each jamboree game. There will be a facility convener/NLBHA convener present.
EQUIPMENT
Helmets/Facial Protection All players are required to wear a CSA approved helmet (this includes goaltenders). In minor ball hockey, all players are required to wear full facial protection.
Goaltenders are permitted to wear street hockey goaltender equipment (however, helmets must be CSA approved). 
Sticks Plastic sticks are not permitted.
Shin pads are mandatory in minor ball hockey. Only soft covered shin pads may be worn outside the clothing. All hard covered shin pads with the exception of those specifically designed for ball hockey must be covered by pants or socks. Soccer shin pads are permitted. They must be covered by socks or pants.
The use of gloves is mandatory. Ice hockey, ball hockey or lacrosse gloves are recommended. Gloves must have proper wrist protection and the wrist protection must be closed. Palm-less/fingerless gloves are not permitted.
Other Recommended Equipment include jill and elbow pads.
"Today is a Great Day for Ball Hockey"